Promo !
Porcelaine bowl « Jonquille »
36,90€ TTC
Book your product early and take advantage of a reduced launch price
30,90

€
instead of
36,90

€
(Shop price)
Disponible en magasin
Livraison offerte à partir de 75€ !
Satisfaction Garantie
Retour Simplifié
Fabrication Française
Description

Description


Demonstration


Delivery

THERMAL PORCELAIN, AN ESSENTIAL CULINARY OBJECT TO ENJOY YOUR RECIPES OR TASTINGS
A hot or cold thermal bowl, this innovation unique in the world was surely missing in your kitchen.
Because if, you have had faid up of the bain-marie, the chocolate that bakes too quickly, that makes lumps, that sticks, that you want a chocolate fondue solo or with two…
This thermal bowl is just what you need.
It melts chocolate without baking it, but also butter, it keeps soup and hot sauces. For the sames product in cold, you will take all your time to taste scoops of ice cream or keep fresh sauces….
Interesting properties :
Thanks to its double wall, this bowl has thermal properties wich are very useful for different uses.
You will not need to use the water bath process. Just put it empty for few seconds in the microwave so that it releases heat throughout the process to obtain, for example, a warm, luscious chocolate to taste without moderation.
A quality bowl : 
Made in France, this bowl is made of porcelain. this constitution makes it special and allows it to be a very nice solid article that can be placed on a table. it is also a very pratical bowl, because you can also put it in the oven and in the diswasher.
Pratically and aesthetically, this bowl brings you undeniable values. So don't wait! Buy it to take advantage of it as quickly as possible.
WAYS OF DELIVERY
DPD countersigned : hand delivery if you are present. Notice of passage if you are away
So Colissimo countersigned : delivery to the address of your choice with hand delivery. In case of missing, you package will be madeavailable to you at the post office
Collect your goods at the post office in one of the 10 000 delivery spots offices ofyour choice in France
Products withdrawal:  Post office or other spots
Fedex : delivery to the address of your choice
DELIVERY TOWNS AND APPLICABLE FARES
Coming soon…
INFORMATION AND CHARACTERISTICS
Straightforward features for a quality product
Dimensions
Bowl diameter : 14 cm
Bowl height : 6 cm
Composition
Porcelain
BPA fee*
Non-toxic thermal component
Alimentary

MACEO PARIS IS NOT A SIMPLE BRAND, BUT RATHER AN AMBASSADOR WHO HAS THE AMBITION TO PARTICIPATE, IN ENERGY SAVING, ECO PACKAGING AND OTHER INITIATIVES THAT WE WILL COMMUNICATE THROUGH OUR SOCIAL NETWORKS.
ALL OUR INITIATIVES CANNOT BE DONE WITH YOU.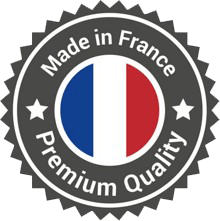 Seuls les clients connectés ayant acheté ce produit ont la possibilité de laisser un avis.